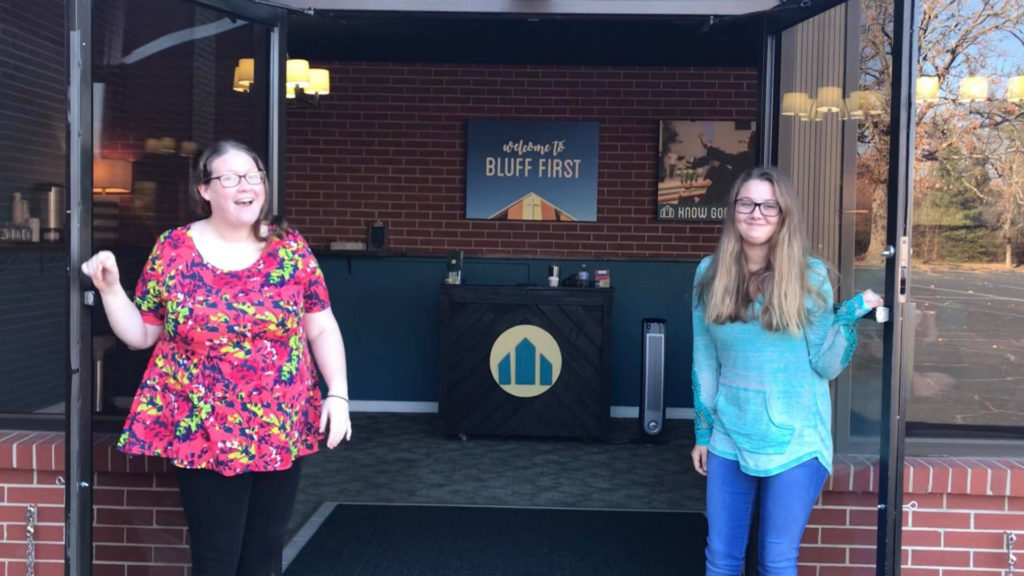 Your first time at a new church can be scary!
Walking into a building you've never been in, full of people you've never met… are you sweating yet? Well, it doesn't have to be scary. We want to help make your first time at Bluff First a great experience. Currently, someone will quickly check your temperature (touch-free) upon entering. We think you'll find our team to be friendly, down-to-earth, and excited to have you with us!
In total, each Sunday Morning service runs 60 minutes in length. Our services are casual, fun,

and

powerful.

Services begin with

live worship music

from our band. Lyrics are projected for singing along. We typically read a short passage of scripture together during our singing.
After the music, one of our pastors will come and share a

hope-filled Gospel message

about following Jesus.

After giving people time to pray and respond to the message, one of our leaders will wrap up the service with announcements and final instruction.

If you're visiting,

we don't want anything FROM you

,
we just want God's best FOR you! For those who call Bluff First home and support its mission, giving boxes & envelopes are located at the exits for your convenience.

*We aren't currently serving our free coffee because of Covid-19, but you are more than welcome to bring your own beverages into the service.
We believe that kids should have a blast at church every single week – and at

Kids First

, we make this a priority.
Children are welcome to attend either adult service with you, but we have

fun

experiences designed just for them in our

11am service

(only).
The other thing we prioritize is your children's

safety

.
All of our kids environments are staffed with

background-checked workers

.

We have a check-in and check-out process for further safety. You may want to give yourself a few extra minutes before service to get them checked in, but even if you're running late we will make it work!
We have 4 separate rooms set up to care for babies, toddlers, and pre-school (11am only). We have a full kids service for elementary-aged kids.
Junior high and older will probably be more comfortable in our adult service.
You can check out our cheesy little video to see what check-in will be like! 🙂
Service Times & Location
We meet every Sunday @ 9AM & 11 AM (childcare/kids church offered only @ 11am)

The 9AM tends to be a bit smaller of a crowd since kids ministry is not provided.
There is plenty of room in both services on a normal Sunday, so

finding a seat is easy.
We are located right off the corner of

Westwood Blvd & Barron Road

on the north end of Poplar Bluff. We are across the street from American Superstore. Our main entrance is on our upper level, which might seem like the "back door" from the road.
If you need to navigate, our address is

2518 Barron Road

, Poplar Bluff MO 63901.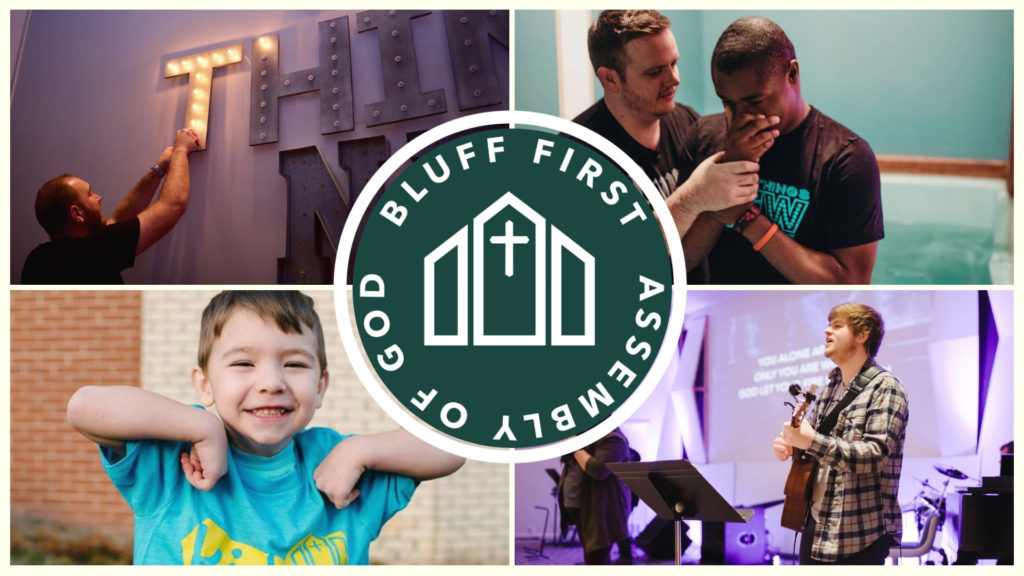 "Everyone is friendly and welcoming. The pastors explain things so that everyone can understand.
Bluff First has taught me about showing Christ's love through actions.
It's also "church made fun" as one of my kids have said. If the doors are open my children want to be there! It's more than a church to my family, it's a feeling of home!"
– Amy Long